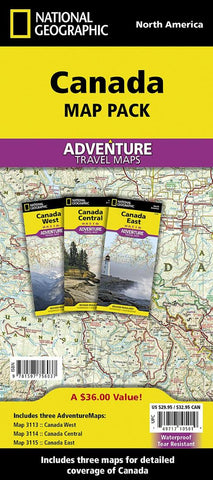 Canada, Map Pack Bundle by National Geographic Maps
The National Geographic Adventure Canada Map Pack is the perfect companion for anyone who wants to travel in Canada. The Map Pack includes three Adventure maps that cover almost all of inhabited Canada. From the rugged mountains of British Columbia through the plans of Saskatchewan all the way to untamed coast of Nova Scotia. Each of the three maps cover these areas in detail with points of interest, intricate road networks, and an index of places to help you find even the smallest town.
The Canada Map Pack includes:

Map 3113 :: Canada West
Map 3114 :: Canada Central
Map 3115 :: Canada East
Every Adventure Map is printed on durable synthetic paper, making them waterproof, tear-resistant and tough - capable of withstanding the rigors of international travel.
Product Number: 2210283M
Product Code: NG_AM_CAN_PK
ISBN: 9781597756037
Year of Publication: 2013
Folded Size: 9.45 x 4.33 inches
Unfolded Size: 36.61 x 24.8 inches
Map type: Folded Map
Geographical region: Canada
---
Related Maps