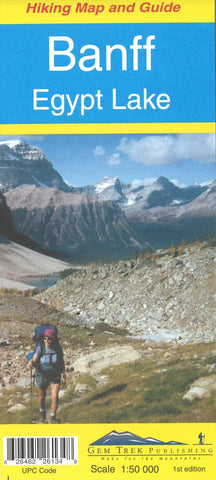 Banff, Egypt Lake Hiking Map and Guide by Gem Trek
Our new 1:50,000-scale Banff - Egypt Lake map covers the most popular hiking trails in the Banff area in four times as much detail as on our Banff-Mt. Assiniboine map.

Map coverage stretches from just east of Taylor Lake in the west to the west end of Lake Minnewanka in the east, and from Mystic Pass and Rockbound Lake in the north to Citadel Pass and Vermilion Crossing (Kootenay National Park) in the south.

All of the great day hikes in and around Banff town site are covered on this map, including those to Tunnel Mountain, Sundance Canyon, the Spray River and Sulphur Mountain.

A little further from the town site, youll find the classic trails to the gargoyles at Cory and Edith passes, Bourgeau Lake and the fabulous alpine meadows at Harvey Pass, plus Stoney Squaw, C-Level Cirque, Cascade Amphitheatre, Elk Lake, Mystic Lake and Pass, Castle Lookout, Rockbound Lake, Johnston Canyon and the Ink Pots.

Also on the map are the trails in the flower-studded Sunshine Village and Sunshine Meadows areas, including Citadel Pass Trail.

If you are headed into the backcountry to the ultra-scenic Egypt Lake or Shadow Lake area, this is the map you will want. All of the access routes in and out of these two popular backcountry areas are shown on the map, including Redearth Creek, Healy Creek, Vista, Arnica and Twin Lakes, Altrude Creek, Hawk Creek-Ball Pass, as well as the route over Wawa Ridge and Simpson Pass from Sunshine Village.

The overnight routes to the more rugged Elk Lake and Mystic Lakes areas northwest of Banff town site is also shown in their entirety, including over Mystic Pass to Johnston Canyon.

On the back of the map are trail descriptions of 17 recommended day hikes and four classic multi-day trips, all referenced to the map on the front.

Also on the back is a list of trails recommended for early season, birdwatching, wildflowers, waterfalls, expansive views, awe-inspiring scenery, alpine meadows and rainy days. Also included are contact numbers for visitor centers and backcountry bookings, plus information on Egypt Lake Shelter and Shadow Lake Lodge.
Product Number: 2059531M
Product Code: GEM_BANFF_EGY
ISBN: 9781895526134
Year of Publication: 2008
Folded Size: 9.84 x 4.33 inches
Unfolded Size: 25.98 x 33.86 inches
Map type: Folded Map
Geographical region: Canada
---
Related Maps