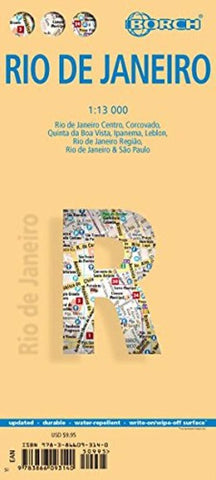 Rio de Janeiro, Brazil by Borch GmbH.
This soft-laminated folded map of Rio de Janeiro shows: Rio de Janeiro Centre 1:13 000, Quinta da Boa Vista 1:13 000, Corcovado 1:13 000, Ipanema, Leblon 1:13 000, Greater Rio de Janeiro 1: 175 000, Rio de Janeiro and Sao Paulo 1:4 000 000, Public Transport Rio de Janeiro, Brazil administrative and time zones and Top 30 sights. Borch maps are easy to fold, durable and water-repellent with a wipeable surface. Borch Maps show hotels, museums, monuments, markets, public transport, top sights and points of interest, useful statistics, conversion charts for temperatures, weights and measurements, climate charts showing temperatures, sunshine hours, precipitation and humidity, overview maps, time zones, and much more...

The city of Rio de Janeiro (January River) is located in the eponymous state in Brazil. Rio is the home of Samba music and Carnival, Copacabana, Ipanema and Sugarloaf Mountain. The second-largest city and former capital of Brasil is home to more than six million people (Cariocas) who speak Portuguese as their national language, with more than twelve million people living in the greater metropolitan area. Tropical Rio with its rich colonial heritage is divided into four districts: the North, South and West Zones, and Downtown (the historic city center) and has as a notorious reputation, with a high crime rate emphasized by rampant corruption, even within police ranks. Rios legendary nightlife regularly attracts supermodels, rockstars, the rich and famous, and drug barons, but the city is also a flourishing industrial and financial center and the second largest economic center in the country. Most famous for its wild carnival and new years celebrations, Rio also boasts impressive museums, world-famous sports events and of course the famous beaches, where you can enjoy a refreshing sea breeze while temperatures inland soar.
Product Number: 2213739M
Product Code: BOR_RIO
ISBN: 9783866093140
Year of Publication: 2013
Folded Size: 9.45 x 4.33 inches
Unfolded Size: 34.25 x 18.5 inches
Map type: Folded Map
Geographical region: Brazil
---
Related Maps