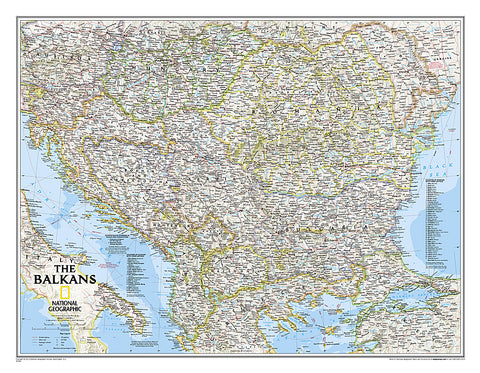 Balkans, Classic, Tubed by National Geographic Maps
Click to Zoom (high resolution)
The Countries of the Balkans wallmap features thousands of place-names, political boundaries, national parks, and major infrastructure networks such as roads, canals, ferry routes, and railroads. The regions diverse terrain is detailed through shaded relief, coastal bathymetry, and symbols for water features and other landforms. Elevations of major peaks as well as depth soundings are expressed in meters. The signature Classic style map uses a bright, easy to read color palette featuring blue oceans and stunning shaded relief that has been featured on National Geographic wall maps for over 75 years.

The map covers Albania, Austria, Bosnia and Herzegovina, Bulgaria, Croatia, Hungary, Kosovo, Macedonia, Moldova, Montenegro, Romania, Slovenia, as well as the outlying border countries of Greece, Italy, Slovakia, Serbia, Turkey and Ukraine.

It also includes listings for the counties of Hungary and Romania along with their respective capitals and the administrative divisions of Bosnia and Herzegovina.

The map is packaged in a 2-diameter clear plastic tube. The tube has a decorative label showing a thumbnail of the map with dimensions and other pertinent information.
Product Number: 2122497M
Product Code: NG_BALKANS_WA
Publisher Product ID: RE01020582
ISBN: 9781597754040
Year of Publication: 2012
Unfolded Size: 20.47 x 27.17 inches
Map type: Wall Map
Geographical region: Albania
---
Related Maps