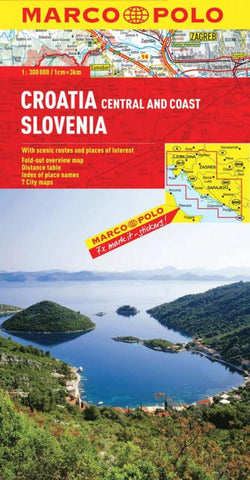 Croatia, Central and Coast and Slovenia by Marco Polo Travel Publishing Ltd
Folded double-sided color map of Croatia (central and coast) and Slovenia. Contains 7 city maps: Ljubljana, Rijeka, Zagreb, Dubrovnik, Sarajevo, Split and Zadar. A fold-out overview map is ideal for route planning and 7 self-adhesive Marco Polo mark-it stickers can be used to pin-point a destination or route for future reference. Scenic routes and places of interest are highlighted - ideal for touring holidays.

Comprehensive index booklet attached. The scale is 1:300 000.
Product Number: 2046590M
Product Code: MP_CRO
ISBN: 9783829767101
Year of Publication: 2011
Folded Size: 9.84 x 5.120 inches
Unfolded Size: 37.01 x 500 inches
Map type: Folded Map
Geographical region: Croatia
---
Related Maps