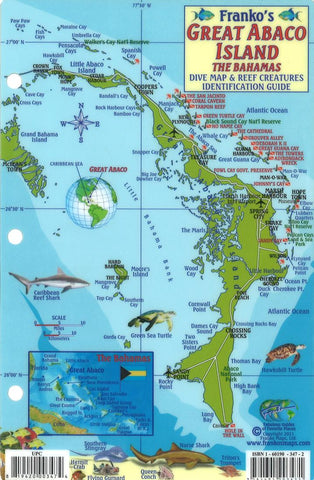 Bahamas Fish Card, Great Abaco Island by Frankos Maps Ltd.
Between 20 degrees and 28 degrees latitude and 70-80W longitude are the archipelago of small islands that contain the Commonwealth of the Bahamas.

The islands are located off the southeast coast of Florida and bounded on the south by Cuba present amazing opportunities for divers, fishermen and snorkelers. They includes Bimini Islands at the western edge, Great Exuma, Long Island Group and Crooked Island in the middle, and Great Inagua to the southeast.

In the warm, shallow waters around all these islands, tropical fish, coral reefs and shipwrecks abound. The Bahamas, after all, were infamous for pirating during the slave trade in the 19th century and were a haven for the pirate, Blackbeard.

In 1718, the Commonwealth of the Bahamas became a British Crown colony but in 1973 took its independence, retaining Queen Elizabeth II as its monarch.

With tourism the main economic activity, hundreds of thousands visit the islands each year, many on cruise ships. If you love snorkeling, youll find a huge array of angelfish, parrotfish, groupers, hogfish, wrasse and butterfly fish in and around the sponges, sea fans and sea anemone that abound in the reefs. Don some gear and make snorkeling a group activity - on any of the main islands in the archipelago.

There are dozens more tropical creatures to discover and admire, including several species of sharks and barracuda that can be found around the underwater caves and valleys. Scuba divers in these waters head to sites like Telephone Pole, Coral Cavern and The Cathedral; Theos Wreck, Dianas Dungeons, and many other spots where in the past pirate attacks caused ships to go down with treasured cargo.

Alice Town in the Bimini Islands is, of course, the Big Fish capital of the Bahamas where marlin fishermen head. Nassau, on New Providence Island, is the capital of the Commonwealth.

Temperatures in The Bahamas fluctuate about 12 degrees between the coolest months (January-February) and the warmest months (July-August) making for a reliably temperate climate with little rainfall. - a tropical savannah climate.
Product Number: 2043037M
Product Code: FM_ABACO_FISH
ISBN: 9781601903471
Year of Publication: 2011
Folded Size: n/a inches
Unfolded Size: 8.66 x 5.51 inches
Map type: Other
Geographical region: Bahamas
---
Related Maps