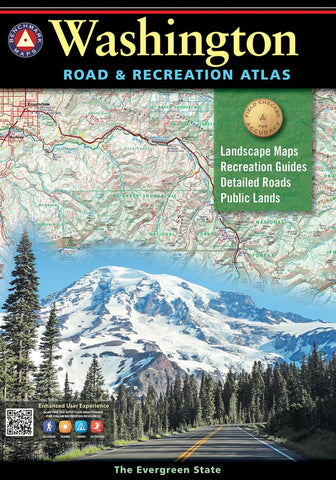 Washington Road and Recreation Atlas by Benchmark Maps
Benchmarks Washington Road & Recreation Atlas is the one guide needed to explore every corner of this magnificent state. Field-checked Landscape Maps™ show complete road detail, classed by use and surface, and the updated Recreation Guide has several recreation categories organized by region including the following: Wilderness, Forest Service, State parks, State Lands, Bureau of Reclamation, Military lands, BLM, Tribal lands, National parks and monuments, Wilderness areas and State game management units.

New features include: Updated BLM, State, and US Forest Service land ownership detail in our Landscape Maps and thoroughly updated Recreation Guide with nearly one thousand updates to phone numbers, campgrounds, and other recreation listings.
Product Number: 2256808
Product Code: BEN_WA_AT
ISBN: 9780929591407
Year of Publication: 2017
Unfolded Size: 15.35 x 10.63 inches
Map type: Atlas
Geographical region: Washington
---
Related Maps