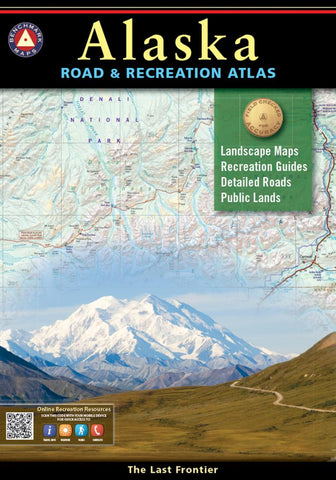 Alaska Road and Recreation Atlas by Benchmark Maps
Alaska truly is the Last Frontier. No other publication can display this rugged scenery and recreation potential with more precision than Benchmarks Alaska Road & Recreation Atlas. The Landscape MapsTM reveal landforms with amazing realism and detail, clearly showing how the states vast network of roads, waterways, and recreation landmarks fit into the landscape. A complete Recreation Guide lists a myriad of outdoor activities. Arranged by category and boasting unequalled insight and detail, it is the ideal planning tool from a simple scouting trip to an extended exploration.
Benchmark field-checkers drove several thousand miles to make sure the Alaska Road & Recreation Atlas is the most accurate, comprehensive, and reliable map product ever published for the 49th State.
Product Number: 2220748
Product Code: BEN_AK_AT
ISBN: 9780929591148
Year of Publication: 2016
Unfolded Size: 10.83 x 15.350 inches
Map type: Atlas
Geographical region: Alaska
---
Related Maps