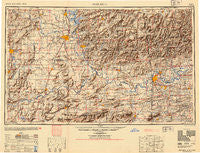 ~ Fort Smith OK topo map, 1:250000 scale, 1 X 2 Degree, Historical, 1946
Fort Smith, Oklahoma, USGS topographic map dated 1946.
Includes geographic coordinates (latitude and longitude). This topographic map is suitable for hiking, camping, and exploring, or framing it as a wall map.
Printed on-demand using high resolution imagery, on heavy weight and acid free paper, or alternatively on a variety of synthetic materials.
Topos available on paper, Waterproof, Poly, or Tyvek. Usually shipping rolled, unless combined with other folded maps in one order.
Product Number: USGS-5630943
Free digital map download (high-resolution, GeoPDF): Fort Smith, Oklahoma (file size: 15 MB)
Map Size: please refer to the dimensions of the GeoPDF map above
Weight (paper map): ca. 55 grams
Map Type: POD USGS Topographic Map
Map Series: HTMC
Map Verison: Historical
Cell ID: 68785
Scan ID: 802271
Visual Version Number: 1
Aerial Photo Year: 1946
Survey Year: 1949
Datum: NAD27
Map Projection: Transverse Mercator
Shaded Relief map: Yes
Map published by United States Army Corps of Engineers
Map published by United States Army
Map Language: English
Scanner Resolution: 508 dpi
Map Cell Name: Fort Smith
Grid size: 1 X 2 Degree
Date on map: 1946
Map Scale: 1:250000
Geographical region: Oklahoma, United States
Neighboring Maps:
All neighboring USGS topo maps are available for sale online at a variety of scales.
Spatial coverage:
Topo map Fort Smith, Oklahoma, covers the geographical area associated the following places:
- England - Smeltzer - Redbird Smith - Stilwell - Armada (historical) - Grandview Heights - Cartersville - Reams - Creek Agency (historical) - Stop (historical) - Enterprise - Stonebluff - Peno Corner - Boynton - Tsa La Gi Indian Village - Winchester - Bunch - Leon (historical) - Eram - Sunset - Anice (historical) - Fort Chaffee - Brent - Rocky Mountain - Martin - Foreman - Evansville - Cottonwood - Glendale - Peavine - Lavaca - Lenna - Spelter City - Massard - Bordeaux - Cross Lanes - Addielee - Oak Park - Pitkin Corner - West Peavine - Abbott - Pleasant View - Welling - Brundidge - Long - Floss - Huntington - Fidelity (historical) - Vesta - Clarksville - Mallard Bay - Stigler - Canadian Fork - Texanna - Belfonte - Greenland - Dog Creek - Hoffman - Whitefield - Witcherville - Russellville - Ironbridge - Midway - Wyola - Fort Smith - Skylight - Springhill - Coalton - White Oak - Dewar - Sulphur City - Gilmore - Short - Remy - Clyde - Onda - Carter (historical) - Pettit Bay - Keys - Quinton - Whitmire - Calhoun - Posey (historical) - Wildcat Point - Dill Place (historical) - Jenny Lind - Dutch Mills - Fort Gibson - Greenwood - Carnis - Mulberry - Meadows - Sunrise - Tullahassee - Concord - Simms - Hyde Park - Fame - Tucker - Hackett
Map Area ID: AREA3635-96-94
Northwest corner Lat/Long code: USGSNW36-96
Northeast corner Lat/Long code: USGSNE36-94
Southwest corner Lat/Long code: USGSSW35-96
Southeast corner Lat/Long code: USGSSE35-94
Northern map edge Latitude: 36
Southern map edge Latitude: 35
Western map edge Longitude: -96
Eastern map edge Longitude: -94
---
Related Maps