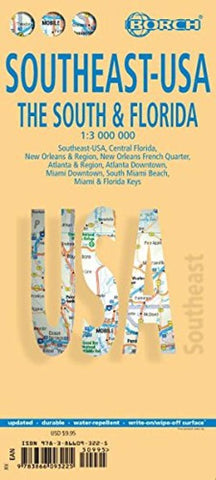 United States, Southeast by Borch GmbH.
This soft-laminated map of the southeast of the USA includes: The South & Florida 1:3 000 000, Central Florida 1:1 350 000, Atlanta & Region 1:1 000 000, Atlanta Downtown 1:15 000, Miami & Florida Keys 1:1 000 000, Miami Downtown 1:20 000, South Miami Beach 1:20 000, New Orleans & Region 1:1 000 000, New Orleans French Quarter 1:13 000, USA administrative & time zones, interesting statistics, conversion chart for temperatures, weights and measures, climate chart with temperatures, sunshine hours, precipitation and humidity and much more.

From Washington D.C. along the Atlantic coast to Florida and west to Louisiana and Arkansas, this is original plantation country, which has long since gone with the wind. Yet traces of the charming Old South can still be found in the historic cities of Alexandria, Williamsburg, Charleston, Savannah and along the Mississippi River in Louisiana and Mississippi. However, the impressive cities of Atlanta, New Orleans and Miami have shaped the face of the progressive New South with their multicultural vitality and fascinating mix of old and new architecture. Florida, the Sunshine State, offers perfect beaches for relaxing holidays, friendly locals and the magnificent reefs of the Florida Keys are renowned among snorkelers and divers.
Product Number: 2216219M
Product Code: BOR_USA_6
ISBN: 9783866093225
Year of Publication: 2015
Folded Size: 9.45 x 4.33 inches
Unfolded Size: 18.5 x 37.8 inches
Map type: Folded Map
Geographical region: Florida
---
Related Maps