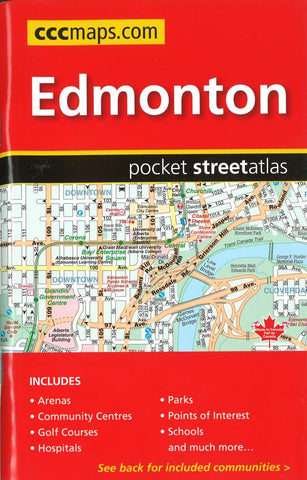 Edmonton AB Pocket Street Atlas by Canadian Cartographics Corporation
This convenient, quick reference pocket atlas of Edmonton packs a lot of information and still easily fits into a purse or pocket. Its got all the features to make even the unfamiliar areas easy to navigate. Features include: detailed city maps, points of interest Listing, street index, golf areas, parks, arenas, skiing, schools and more.
Communities included: Edmonton, Beaumont, Fort Saskatchewan, Leduc, Morinville, St. Albert, Sherwood Park Spruce Grove, Stony Plain.
Product Number: 2213981
Product Code: CCC_EDM_PKT_AT
ISBN: 9781553685937
Year of Publication: 2014
Unfolded Size: 7.48 x 4.72 inches
Map type: Atlas
Geographical region: Alberta
---
Related Maps