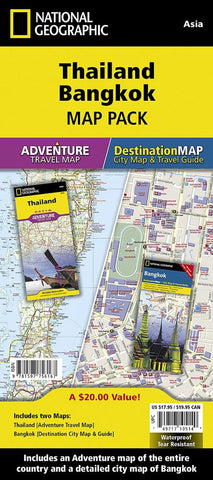 Thailand & Bangkok Map Pack Bundle by National Geographic Maps
The Thailand Adventure Map is combined with a Bangkok Destination City map in this Map Pack bundle. The Thailand map is filled with interesting places to visit throughout this amazing country. From the stunning beachs and the sea stacks of Phang Nga Bay through the bustle of Bangkok to the ancient temples in the north this map covers them all. Combine the Adventure Map of Thailand with a beautifully detailed map of Bangkok and you have the perfect travel companion for your trip to this tropical destination.

The Bangkok Destination City map combines a finely detailed map with fascinating and practical travel information. The map features a large-scale city map, richly layered with tourist and business travel locations and information. 3-D styled drawings provide you with instant identification of famous buildings and landmarks, making orientation easy and creating a unique keepsake of the visit.

The Thailand, Bangkok Map Pack includes:
•Adventure Map :: Thailand
•Destination Map :: Bangkok
Every Adventure Map and Destination City map is printed on durable synthetic paper, making them waterproof, tear-resistant and tough - capable of withstanding the rigors of international travel.
Product Number: 2210304M
Product Code: NG_AM_THA_PK
ISBN: 9781597756167
Year of Publication: 2015
Folded Size: 9.45 x 4.33 inches
Unfolded Size: 24.02 x 31.5 inches
Map type: Folded Map
Geographical region: Thailand
---
Related Maps