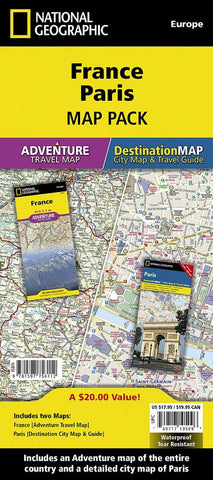 France & Paris Map Pack Bundle by National Geographic Maps
The France Adventure Map is combined with a Paris Destination City map in this Map Pack bundle. The France map is filled with interesting places to visit throughout this history filled and varied country. From the shores of the English Channel to the plains made famous by van Gogh to the mountains of the Alps and Pyrenees this map covers it all. Combine the Adventure Map of France with a beautifully detailed map of Paris and you have the perfect travel companion for your trip to the land of the wine, palaces, and stunning landscapes.

The Paris Destination City map combines a finely detailed map with fascinating and practical travel information. The map features a large-scale city map, richly layered with tourist and business travel locations and information. 3-D styled drawings provide you with instant identification of famous buildings and landmarks, making orientation easy and creating a unique keepsake of the visit.
Product Number: 2210296M
Product Code: NG_AM_F_PK
ISBN: 9781597756112
Year of Publication: 2014
Folded Size: 9.45 x 4.33 inches
Unfolded Size: 24.8 x 32.28 inches
Map type: Folded Map
Geographical region: France
---
Related Maps