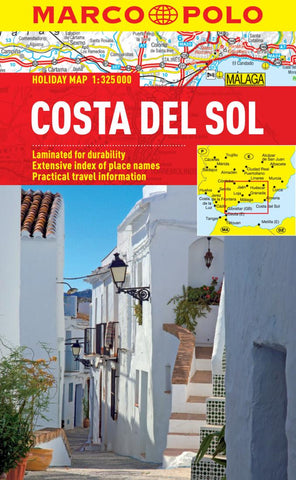 Costa Del Sol, Spain by Marco Polo Travel Publishing Ltd
This double-sided fold out sheet map from Marco Polo is ideal for both planning and navigating your route. It is laminated for durability, includes 3 town plans and indicates key activities, culture and nature information for this region of Spain.

Key features:

Laminated for durability
Includes information of roads not recommended, or closed to, caravans
English only key to symbols.
3 Town plans of Malaga, Granada and Almeria
Driving distance and times
Overview map with tourist towns highlighted in yellow boxes
Traffic regulations, key facts and figures and climate information
Alphabetical index by town name listing grid references.
Product Number: 2186454M
Product Code: MP_COSTA_SOL
ISBN: 9783829770217
Year of Publication: 2013
Folded Size: 6.69 x 4.33 inches
Unfolded Size: 25.2 x 33.46 inches
Map type: Folded Map
Geographical region: Spain
---
Related Maps