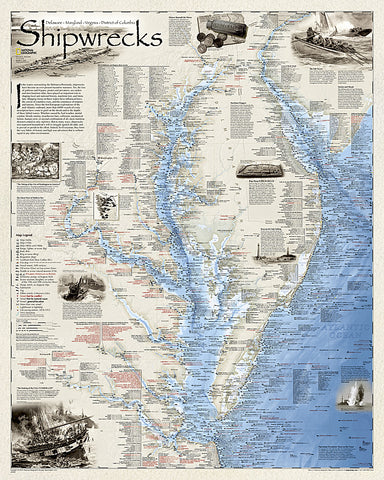 Shipwrecks of the Delmarva, Folded Wall Map by National Geographic Maps
Click to Zoom (high resolution)
Developed by renowned marine archeologist and accomplished author Don Shomette, and designed by award-winning cartographer Robert Pratt, Shipwrecks of the DelMarVa is a stunning cartographic piece based on years of research and expert visual design. It shows the location of over 2,400 wrecks from the waters off the Delaware coast to the waters of the Chesapeake Bay, displayed atop beautiful bathymetric and coastal detail.

Each wreck site is symbolized to define the class, type, and name of vessel accompanied by their dates of sinking. Locations of lifesaving stations, lighthouses and lightships, along with navigational beacons are accurately marked. Bathymetric and coastal features are clearly labeled, accompanied by several inset maps, captions, and drawings used to highlight unique historical events such as the sinking of the U.S.S. Cumberland, the German U-Boat offensives, and the ghost fleet of Mallows Bay-the largest assemblage of wooden ships in the Western Hemisphere. Wrecks featured on this map span from mid-1600s galleons to 20th century naval ships, including those lost in military conflict, foul weather, bloody mutinies, pirate raids, human error, treacherous shoals, and a myriad of other events.

Whether a naval buff, educator, amateur historian, mariner, or someone simply enamored with the captivating power of the sea, Shipwrecks of the Delmarva makes a perfect addition to your map collection as well as wonderful gift.
Product Number: 2186406M
Product Code: NG_SHIP_DELMARVA
Publisher Product ID: RE01020597
ISBN: 9781597754194
Year of Publication: 2010
Folded Size: 8 x 9 inches
Unfolded Size: 33.46 x 26.38 inches
Map type: Folded Map
Geographical region: Northeast USA
---
Related Maps