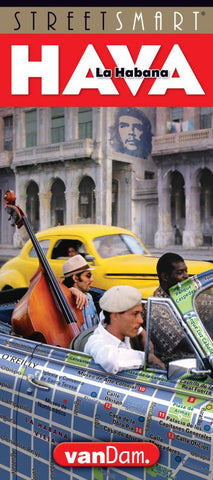 Havana, Cuba StreetSmart by VanDam
VanDams best-selling Havana StreetSmart maps all of the capitals cultural attractions, neighborhoods, beaches, hotels, resorts and more at an immensely legible scale.

Remember web access in Cuba is limited to hotels, excruciatingly slow and up-to-date information simply unavailable. So, let Havana StreetSmart be your key to understanding the new worlds oldest city. Map details of La Habana Vieja, Las Playas del Elste, Malecón, Vedado, Miramar and Havana Central.

This laminated city map package refolds easily to 4 x 9 (24 x 9 open) and snuggly fits into your pocket. Buy this map to become an instant StreetSmart Habanero.
Product Number: 2185890M
Product Code: VD_SS_HAVANA
ISBN: 9781934395486
Year of Publication: 2015
Folded Size: 9.06 x 3.94 inches
Unfolded Size: 8.66 x 24.02 inches
Map type: Folded Map
Geographical region: Cuba
---
Related Maps