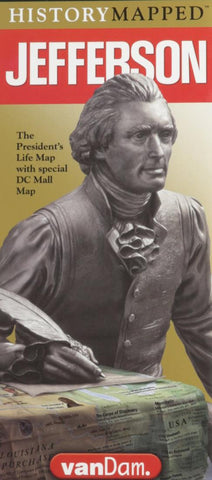 Jefferson History Map by VanDam
VanDams Presidential Map charts the life of Thomas Jefferson and puts his personal geography into the context of his age. The life map details his trajectory as a lawyer, architect, botanist, land and slave owner, drafter of the Declaration of Independence, signer of the Constitution, Secretary of State, founder of the University of Virginia, Commissioner of the Lewis & Clark expedition, and Third President of the new nation. A must-have for every American and visitor to the Jefferson Memorial.

This special Capital Edition includes a detailed map of the Washington National Mall featuring museums, memorials, federal buildings and more at an immensely legible super-scale with 3D buildings. Includes DC Regional map and DC Metro Transit guide.

VanDams Presidential Maps make history accessible, portable and understandable to wide audiences of all ages -- from history buffs to casual Mall visitors. This sleek laminated map package refolds easily to 4 x 9 (from 32 x 9 open) and snuggly fits into your pocket. The smartest souvenir around.
Product Number: 2185857M
Product Code: VD_P_JEFFERSON
ISBN: 9781934395448
Year of Publication: 2013
Folded Size: 9.06 x 4.33 inches
Unfolded Size: 8.66 x 19.88 inches
Map type: Folded Map
Geographical region: District of Columbia
---
Related Maps