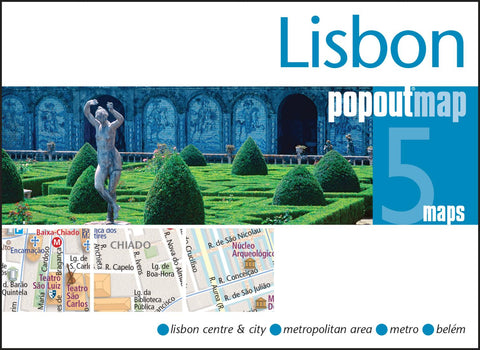 Lisbon, Portugal, PopOut Map by PopOut Products, Compass Maps Ltd.
This uniquely designed Lisbon PopOut Map features maps of the city, including a map of Belem and the Lisbon Metro & Rail system.

Features:

Easy to read icons and fonts
Patented, self-folding, durable format
Assured reliability and accuracy
Clear and logical navigation with cross-referenced indexes to all streets and places of interest
Eye-catching, laminated cover designs

The tiny size of these maps makes them great for just shoving in your pocket as you explore the city. Both the main maps are indexed for streets and places of interest.
Product Number: 2182589M
Product Code: POP_LISBON
ISBN: 9781845879952
Year of Publication: 2014
Folded Size: 3.94 x 5.12 inches
Unfolded Size: 8.07 x 9.45 inches
Map type: Folded Map
Geographical region: Portugal
---
Related Maps