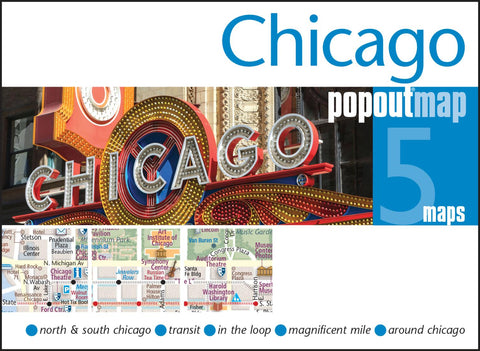 Chicago, Illinois, PopOut Map by PopOut Products, Compass Maps Ltd.
Explore the magnificent city of Chicago with the help of this genuinely pocket-sized map. Small in size yet big on detail, this compact, dependable map will ensure you dont miss a thing.

Features:

2 PopOut maps - a detailed street map of North Chicago and a detailed street map of South Chicago
Additional maps of the area around Chicago and the transit system are also included
Ingenious, self-folding map is small enough to fit in your pocket yet offers extensive coverage of the city in an easy-to-use format
Thorough street index is also featured and cross-referenced to the map so you can easily find your destination
Key places of interest are listed offering you advice on the best things to see

The tiny size of these maps makes them great for just shoving in your pocket as you explore the city. Both the main maps are indexed for streets and places of interest.
Product Number: 2182568M
Product Code: POP_CHIC
ISBN: 9781845879983
Year of Publication: 2014
Folded Size: 3.94 x 5.12 inches
Unfolded Size: 8.07 x 9.45 inches
Map type: Folded Map
Geographical region: Illinois
---
Related Maps