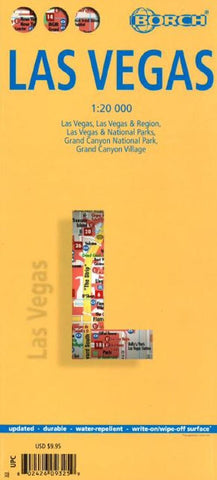 Las Vegas, Nevada by Borch GmbH.
This soft-laminated folded map of Las Vegas shows: Las Vegas 1:20 000, Las Vegas & Region 1:150 000, Las Vegas & National Parks 1:3 000 000, Grand Canyon National Park 1:225 000, Grand Canyon Village 1:40 000, USA administrative & time zones, Top 30 Sights. Borch Maps are easy to fold, durable and water-repellent with a wipeable surface. Borch Maps show hotels, museums, monuments, markets, public transport, top sights and points of interest, useful statistics, conversion charts for temperatures, weights and measurements, climate charts showing temperatures, sunshine hours, precipitation and humidity, overview maps, time zones, and much more...

Las Vegas, literally translated as The Meadows, is also known as Sin City and is the most populous city in the state of Nevada, with the largest number of hotel rooms in the U.S. Las Vegas is famous for shopping, entertainment, dining, and ... gambling! Established in 1905 as a popular railroad town, todays Las Vegas, in particular Las Vegas Boulevard South - better known as The Strip - is home to enormous casino resorts and world-famous shows. Despite losing its status as the worlds highest grossing gambling center to Macau in 2006 and the consequences of the 2008 world finance shock surely didnt help, the combined driving forces behind its economy - tourism, gaming, conventions, and most recently technology - are steady. Its most famous casino hotels include the MGM Grand, the Bellagio and the Mirage, to name but a few. Many hotels have contributed to making The Strip more pedestrian-friendly by installing new facades and footbridges, but with an arid desert climate and temperatures of over 100F (38C) in the months of July and August, you might want to revert to a more temperate form of indoor entertainment.
Product Number: 2176703M
Product Code: BOR_LAS_VE
ISBN: 9783866093256
Year of Publication: 2015
Folded Size: 9.45 x 4.33 inches
Unfolded Size: 25.2 x 14.57 inches
Map type: Folded Map
Geographical region: Nevada
---
Related Maps