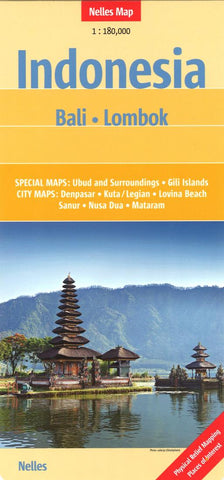 Indonesia, Bali and Lombok by Nelles Verlag GmbH
Folded road & tourist map of the two Indonesian islands of Bali and Lombok at 1:180,000 scale. Parks, beaches, and places of interest highlighted. Shaded-relief coloring clearly depicts topography. Insets include Ubud, Denpasar, Kuta, Lovina Beach, Sanur, Nusa Dua, Gili Islands, Mataram, & overview locator map.
Legend in English, German and French.
Product Number: 2161208M
Product Code: NEL_BALI
ISBN: 9783865742803
Year of Publication: 2014
Folded Size: 9.84 x 4.72 inches
Unfolded Size: 18.9 x 33.86 inches
Map type: Folded Map
Geographical region: Indonesia
---
Related Maps