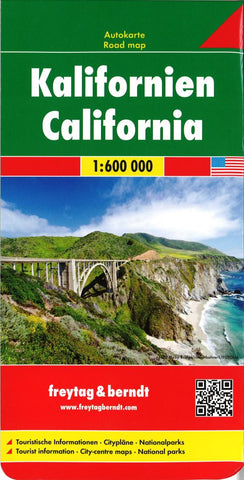 California by Freytag-Berndt und Artaria
Explore the golden state of the USA, California, with this double-sided Freytag & Berndt road map. The topography of the land is shown with clear and coloured shading with plenty of spot heights. Both sides cover the Californian state. One side features an inset of city plans for San Francisco. The flipside has city plans for Las Vegas and Los Angeles.

Freytag & Berndt maps use a marking and icon system, to help you navigate and find tourist information. Such information includes:

Roads, tracks, railway lines and ferry routes
Populated areas, prohibited areas, marine sanctuaries, national parks and Wold Heritage sites
Natural features such as geysers and water features
Cultural features such as monuments and antique sites
Places to visit such as zoos and vineyards

Distances between points are shown in miles. The legend is in several languages, including English.
Product Number: 2160488M
Product Code: FB_CA
ISBN: 9783707914337
Year of Publication: 2014
Folded Size: 10.24 x 5.12 inches
Unfolded Size: 36.22 x 47.64 inches
Map type: Folded Map
Geographical region: California
---
Related Maps