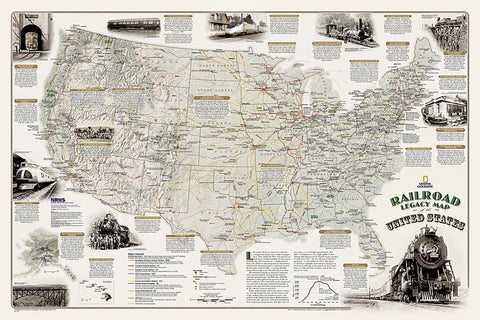 Railroad Legacy Map of the US, Boxed by National Geographic Maps
National Geographics new Railroad Legacy Map of the United States illustrates the many ways railroads have impacted the nation and shaped peoples daily lives. From the creation of time zones still used today to the contributions to the countrys economic and industrial development, Americas railroad legacy is interwoven with the growth of the United States in the 19th and 20th centuries and of the century to come.

The map portrays the routes of todays seven Class 1 (major) railroads, Amtraks passenger routes, as well as those of the more than one hundred Class 1 railroads that ran in 1920 when five percent of the nations work force-more than 2 million people-were employed by these lines. The map also highlights present-day and 1920 rail hubs along with text and illustrations of key events in Americas railroad history such as the opening of New York Citys Grand Central Terminal in 1913 and the last Class I line to employ steam locomotives in 1960. Notable sites such as tunnels, train spotting locations, and railroad museums are also included on this map.

The map is printed on high-quality paper, and measures 24x36 - suitable for framing.
Product Number: 2139941M
Product Code: NG_USA_RAIL
ISBN: 9781597755436
Year of Publication: 2013
Unfolded Size: 20.87 x 32.87 inches
Map type: Wall Map
Geographical region: United States
---
Related Maps