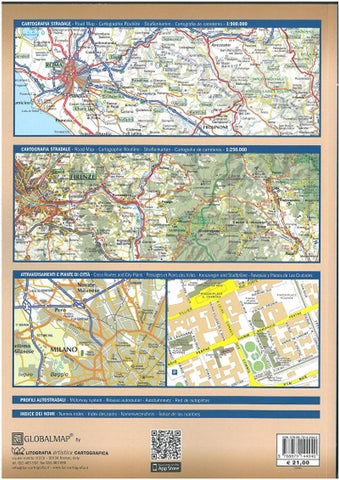 Italy, Road Atlas by Litografia Artistica Cartografica
Italy Road Atlas at 1:250,000 from the Litografia Artistica Cartografica in their GlobalMap imprint, with 21 street plans each shown with a map of the citys environs, route profiles of the countrys motorways, plus mapping at 1:900,000 for route planning.

The main section of the atlas covers Italy at 1:250,000 on mapping which provides an excellent picture of the countrys topography, particularly in the mountainous areas, with contours, relief shading, colouring for woodlands and plenty of names of mountain ranges, valleys, peaks, etc. National parks and other protected areas are highlighted.

Minor local roads are clearly presented and many are annotated with driving distances. Motorways show toll gates and service areas. Railway lines are shown with stations and ferry routes are marked. Towns, villages and other locations worth visiting are highlighted with grading, and symbols indicate other places of interest. The maps have no geographical coordinates.

Additional sections of the atlas provide:

- Very clear mapping of Italy on nine pages at 1:900,000 for route planning, also highlighting locations worth visiting.

- Route profiles of all the countrys motorways showing interchanges, facilities at service stations including types and brands of fuel, accommodation, etc.

- 21 street plans, all one-page except Messina - Reggio di Calabria and each with a full-page enlargement of the surrounding area clearly showing access to the town centre. The plans highlight main traffic arteries and show car parks.

- A comprehensive distance table

Map legends and other explanatory text include English.
Product Number: 2070314
Product Code: LAC_I_AT
ISBN: 9788879144940
Year of Publication: 2012
Unfolded Size: 8.27 x 11.810 inches
Map type: Atlas
Geographical region: Italy
---
Related Maps