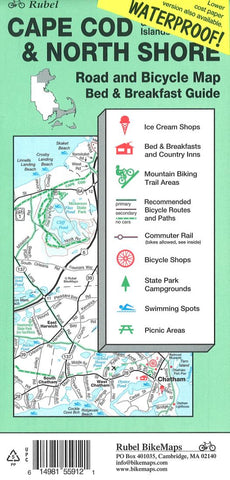 Cape Cod, The Islands and North Shore, Road and Bicycle Map (waterproof) by Rubel BikeMaps
Bicycling in Eastern Massachusetts just got easier. So did finding bed & breakfasts, little-known beaches (both fresh- and salt-water), parks and forests, trails, and great ice-cream shops. The Cape Cod & North Shore Bicycle Map include extensive revisions to bicycle route information, new off-road trail information, over 80 ice-cream shops, plus updates to every part of the maps.

The maps are high-detail road and recreation guides in a traditional folded-map format. When you find something interesting on the map, you can check the text listings for related information like B&B features and price range, whether a beach has a bathroom or entrance fee (cars and bikes), difficulty of off-road trails, etc. We work hard to include maximal recreation information while keeping the maps easy to read and understand, says Andy Rubel, owner of Rubel BikeMaps. Some people find the maps useful just for the extensive list of beaches, B&Bs, parks, or ice-cream shops. We point out interesting places to explore, and you can explore them by bicycle if you like.

Road cyclists will find all the back roads, including their names, in navigation-quality detail. Different colors highlight the best ones for bicycling, chosen by avid cyclists as the most pleasant based on traffic, road surface, width, and scenic value. Arrows marked on the roads indicate hills, with thicker arrows for steeper or longer hills, so riders can plan accordingly. Bike shops are shown on the map with details in the text listings.

Hikers and mountain-bikers will appreciate the new trail information added to the maps. We added a huge number of trails, showing them as a thin red line thats easy to spot, says Madeleine Noland, chief cartographer working with Rubel. You can glance at the map and immediately see where trails are located and how extensive the networks are anywhere in eastern Massachusetts. For most trails theres enough detail for local navigation. Phone numbers for each park or trail area help you obtain local trail maps when available. Mountain bike symbols indicate which trails are open to bicyclists and locations of trail heads.

Bicycle paths are easier to find than in the previous edition, published in 1997. Added paths include extensions to the Charles River bike paths, the new Phoenix Bike Trail in Fairhaven, a spur on the Cape Cod Rail Trail, the under-construction Neponset Trail, and others.
Product Number: 2062407M
Product Code: BMM_CAPE_COD_WP
ISBN: 9781881559122
Year of Publication: 2001
Folded Size: 8.66 x 3.94 inches
Unfolded Size: 30.71 x 24.410 inches
Map type: Folded Map
Geographical region: Massachusetts
---
Related Maps