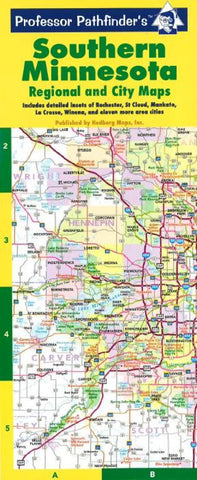 Minnesota, Southern, Regional and City Maps by Hedberg Maps
A useful compact map for the most traveled portion of the state. A detailed and legible highway map covering from Hinckley to the Iowa border is combined with a Twin Cities metro map along with detailed metro insets of 16 other cities: Albert Lea, Austin, Fairmont, Faribault, Hutchinson, La Crosse (WI), Mankato, Marshall, New Ulm, Northfield, Owatonna, Rochester, St Cloud, Willmar, Winona, and Worthington. Indispensable to the outstate driver!
Six-panel accordion-style fold for easy open/close. Printed on card stock and UV coated for durability.
Product Number: 2060866M
Product Code: HED_PP_MN_S
ISBN: 9781885508409
Year of Publication: 2010
Folded Size: 10.24 x 4.33 inches
Unfolded Size: 9.45 x 13.98 inches
Map type: Folded Map
Geographical region: Minnesota
---
Related Maps