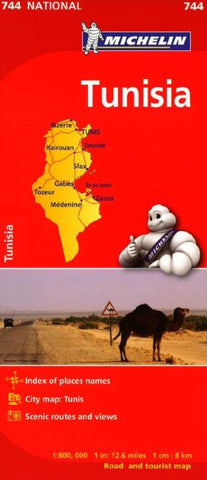 Tunisia (744) by Michelin Maps and Guides
MICHELIN National Map Tunisia will give you an overall picture of your journey thanks to its clear and accurate mapping scale 1:800,000. This map will help you easily plan your safe and enjoyable journey in Tunisia thanks to a comprehensive key, a complete name index as well a clever time & distance chart. Michelins driving information will help you navigate safely in all circumstances. Multilingual legend (Arabic, German, French, and English) shows points of interest such as historic sites, museums and scenic sites.
Printed on one side. Includes index and inset of Tunis.
Product Number: 2060605M
Product Code: M_CC_744
ISBN: 9782067172364
Year of Publication: 2012
Folded Size: 9.84 x 4.72 inches
Unfolded Size: 35.83 x 19.69 inches
Map type: Folded Map
Geographical region: Tunisia
---
Related Maps