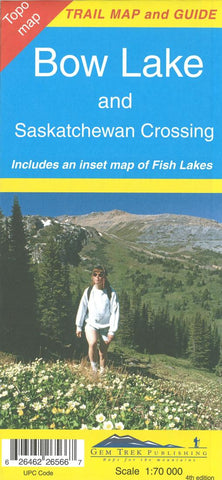 Bow Lake and Saskatchewan Crossing by Gem Trek
This map covers the trails departing from the southern section of the Icefields Parkway from Rampart Creek south to Hector Lake. A 1:100 000-scale inset map on the back of the map increases coverage to the adjoining Mosquito Creek/Fish Lakes area.

The area covered on this map is prime hiking terrain with scenery as superb as the rest of Banff National Park, but with the trails less busy than those in the Banff town site and Lake Louise areas. Besides spotting marmots in the boulders near Helen Lake, you also have an excellent chance of seeing moose.

On the back of the map are trail descriptions and photos of 16 recommended day hikes, ranging from short and easy to long and strenuous, as well as descriptions of five overnight trips. Classic trails covered include Bow Glacier Falls, Helen Lake, Bow Summit Lookout, Sunset Pass, and Cirque, Chephren and Glacier Lake trails. All trails are referenced to the front. Contact numbers for parks and info on lodges, campgrounds and hostels in the area are also included.

A separate section on the back of the map is devoted to the Mosquito Creek/Fish Lakes area. As well as the above-mentioned 1:100,000-scale map of this area, there are trail descriptions of Molar and North Molar passes and Fish Lake trail.
Product Number: 2059537M
Product Code: GEM_BOW_LAKE
ISBN: 9781895526561
Year of Publication: 2010
Folded Size: 9.84 x 4.72 inches
Unfolded Size: 37.01 x 21.26 inches
Map type: Folded Map
Geographical region: Alberta
---
Related Maps