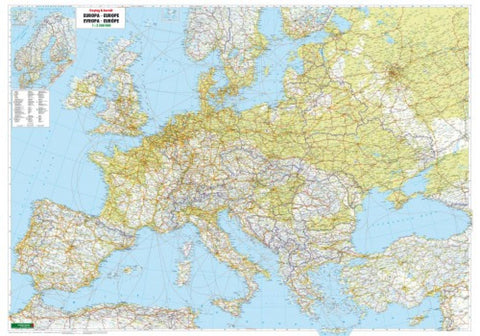 Europe, Physical, Wall Map by Freytag-Berndt und Artaria
This is a flat, detailed physical road map of Europe, ideal for laminating or putting up on the wall (or both!).

Main roads such as motorways, dual-carriageways and highways are shown, as are some minor roads. National boundaries are clearly marked, with railways, airports, ferry routes all clearly marked. Intermediate driving distances are shown in kilometres on most roads, as are road numbers.

Topography is shown with relief shading, and colour shading is used to indicate land types.

The legend is in 10 languages including English. Index on reverse.
Product Number: 2056190M
Product Code: FB_EUR_PHY_WA
ISBN: 9783707903621
Year of Publication: 2011
Unfolded Size: 33.27 x 47.64 inches
Map type: Wall Map
Geographical region: Europe
---
Related Maps