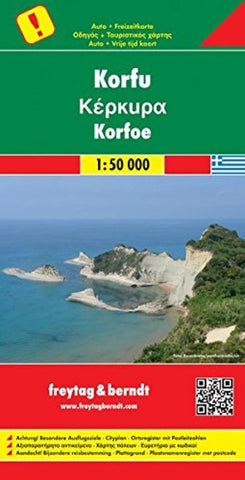 Corfu, Greece by Freytag-Berndt und Artaria
Explore Corfu, the second largest of the Ionian Islands located in Greece; with this Freytag & Berndt single-sided road and leisure map. The map will allow you to travel independently, and plan your journey well. The topography is depicted using colour shading, spot heights and gradients.

The map contains a main map of Corfu, with insets depicting the smaller islands belonging to the Corfu municipality: Ereikoussa, Mathraki and Othonoi. There are also insets for the Paxi island group: Paxos and Antipaxos.

As with all Freytag & Berndt maps, icons and markings are used to denote tourist information and points of interest. These include:

Roads including proposed roads and closed roads; foot paths, railways, car ferry routes and hiking trails
Natural features like swamps and water features
Places of interest like ruins, churches and zoos
Important tourist information such as camping sites, golf courses and casinos

Distances between points are shown in kilometres. The legend is in Greek, German, English, French, Italian, Dutch, Spanish, Czech, Slovak and Hungarian.

Also included is a booklet. In here you will find listed, places of considerable interest which are also marked on the maps with icons. This is in full colour with photographs and written in the same languages used for the legend. There is also a city plan for the main township, Kerkyra; and a list of localities along with their postcodes.
Product Number: 2053617M
Product Code: FB_CORFU
ISBN: 9783707909562
Year of Publication: 2011
Folded Size: 10.24 x 5.12 inches
Unfolded Size: 47.24 x 36.22 inches
Map type: Folded Map
Geographical region: Greece
---
Related Maps