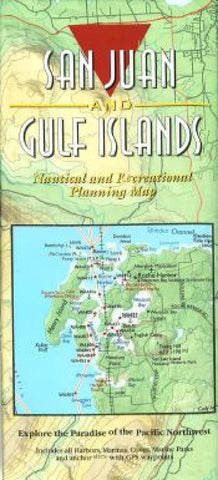 San Juan Islands, Washington and Gulf Islands, British Columbia by Fine Edge
Boating and exploring one of the most popular cruising areas in the world is now easy with this colorful planning map of the San Juan and Gulf Islands. The map covers Deception Pass west to Victoria, and north from Bellingham to Nanaimo. All harbors, coves, anchorages, and Cascade Marine Trail sites for kayaks or canoes are noted, as well as public and Provincial parks. Fine Edges Proven Cruising Routes© are shown with the Latitude/Longitude GPS waypoints listed for all key locations and the turning points for the routes.
The 2 sided map is 36 wide by 24 high and folds to 4 wide by 9 high and is printed on waterproof paper for convenient use on a boat or carrying in a backpack. The back of the map includes the Canadian Gulf Islands and the GPS Waypoints for the routes shown and all major harbors and coves on the map. On the boat, it can be used as a high level overview map of the San Juan and Gulf Islands for trip planning with a dry marker.
Product Number: 2039848M
Product Code: FE_SAN_JUAN
ISBN: 9781932310085
Year of Publication: 2005
Folded Size: 9.06 x 3.94 inches
Unfolded Size: 24.02 x 36.02 inches
Map type: Folded Map
Geographical region: Miscellaneous
---
Related Maps