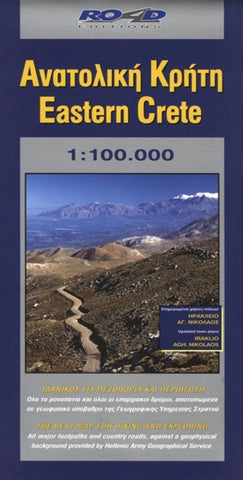 Eastern Crete, Greece by Road Editions
This map also includes two detailed and updated city maps, the map of Iraklion and the map of Aghios Nikolaos, showing all pedestrian walks, traffic direction indicators for all streets and much more information that we gathered through our exhaustive, onsite research.

On a scale of 1:100,000, which is the most detailed scale available for a map of Crete, you will find the most detailed road network, a precise geophysical background (in cooperation with the Hellenic Military Geographic Service), all the islands hydrography and the greatest wealth of information of interest to the traveler: all the archaeological sites, monasteries, country chapels and castles.

Nature lovers and hikers will be find the mapping of the E4 trail and all its side trails, the mountain refuges, the mountain peaks, the canyons and the gorges.

Hundreds of kilometers of forest and other country roads that lead to Cretes most beautiful corners are mapped clearly and precisely, to allow you to enjoy breathtaking routes in places rarely seen by visitors.
Product Number: 2038506M
Product Code: RE_CRETE_E
ISBN: 9789608189133
Year of Publication: 2008
Folded Size: 9.45 x 5.12 inches
Unfolded Size: 26.38 x 38.19 inches
Map type: Other
Geographical region: Greece
---
Related Maps