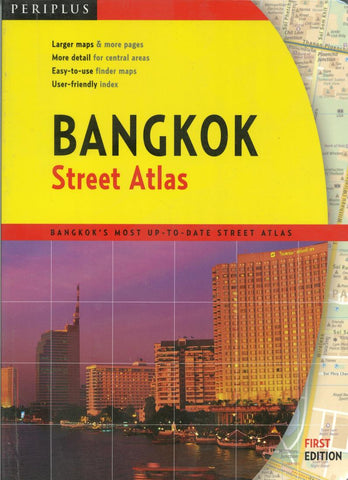 Bangkok, Thailand Street Atlas by Periplus Editions
This street atlas from Periplus, Asias leading book and map publisher, is designed to fit the needs of Metro Bangkok residents and visitors.

Roads are color coded, with major arteries shown in orange, so you can find your way more quickly. Important buildings are identified by name and accurately located based on recent satellite imagery.

Key transport, business and recreational features are highlighted including expressways, bus terminals, car parks, shopping malls, office buildings, hotels, stadiums, embassies and consulates, government offices, places of worship, hospitals, libraries, police stations, schools, parks, theaters and golf courses.

Comprehensively covered in three scales: 1:40,000, 1:15,000 and 1:10,000
User-friendly indexes listing names of streets, places and buildings provide easy reference.
Product Number: 2035268
Product Code: PP_BANGKOK_AT
ISBN: 9780794600877
Year of Publication: 2009
Map type: Atlas
Geographical region: Thailand
---
Related Maps