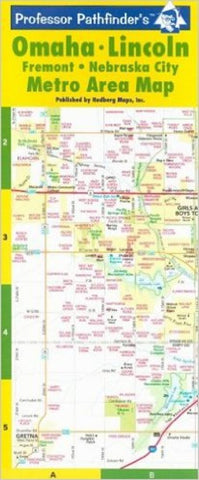 Omaha and Lincoln, Nebraska, laminated by Hedberg Maps
Omaha, Council Bluffs, and Bellevue map, and Omaha-Lincoln Metro Area map. Plus inset maps of: Downtown Omaha, Downtown Council Bluffs, Ouffutt Air Force Base, Nebraska City, Lincoln, Downtown Lincoln, and Fremont.
Index includes golf courses, parks and recreation, colleges, museums, shopping, hospitals, and major office buildings.
Six-panel accordion fold for easy open and close. UV coated for added durability.
Product Number: 2033875M
Product Code: HED_PP_OMAHA
ISBN: 9781593530327
Year of Publication: 2010
Folded Size: 10.24 x 4.33 inches
Unfolded Size: 9.84 x 16.93 inches
Map type: Folded Map
Geographical region: Nebraska
---
Related Maps