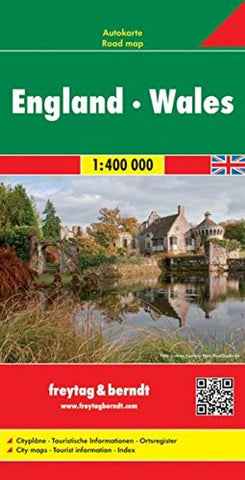 England and Wales by Freytag-Berndt und Artaria
Explore England and Wales with this double-sided Freytag & Berndt road map. Topography is depicted using colour shading. The map features maps on both sides, as well an inset of the Channel Islands.

Icons and markings are used to show tourist information and sites of interest. These include:

Motorways, carriageways, toll roads and railway lines
Car ferry routes and airports
Places of interest such as wildlife parks, reserves, camping sites

Distances between points are shown in kilometres. Also included is a booklet. Within this booklet you will find localities listed, along with their postcodes. There is also city plans for London.
Product Number: 2032193M
Product Code: FB_ENG_WALES
ISBN: 9783707905861
Year of Publication: 2013
Folded Size: 10.24 x 5.12 inches
Unfolded Size: 52.76 x 37.8 inches
Map type: Folded Map
Geographical region: Great Britain
---
Related Maps