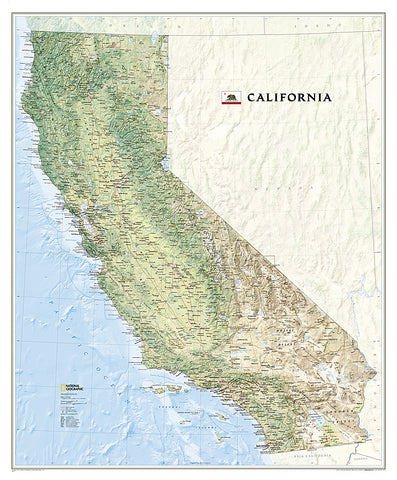 California, Laminated by National Geographic Maps
Click to Zoom (high resolution)
National Geographics wall map of California offers a dramatic visualization of the Golden States physical geography. From the Sonoran and Mohave deserts, the fertile Central Valley, the mighty Sierra Nevada Mountains, and the Redwood Empire, the entire state is rendered in elegant detail. Stunning shaded relief depicts mountains and ocean depths, while vibrant colorization distinguishes forests, deserts, valleys, and other physical topography.

In addition to the geographical features such as mountain ranges, prominent peaks, islands, major lakes, rivers, and reservoirs, this map includes the location of cities, towns, airports, national and state parks, and military bases. The Pacific Crest Trail, a long-distance hiking and equestrian trail that runs through the entire state from the border with Mexico into Oregon, is shown as well.

The map is encapsulated in heavy-duty 1.6 mil laminate which makes the paper much more durable and resistant to the swelling and shrinking caused by changes in humidity. Laminated maps can be framed without the need for glass, so the fames can be much lighter and less expensive.
Product Number: 2030634M
Product Code: NG_CA_LAM
Publisher Product ID: RE01020373
ISBN: 9781597752060
Year of Publication: 2008
Unfolded Size: 37.8 x 30.71 inches
Map type: Wall Map
Geographical region: California
---
Related Maps