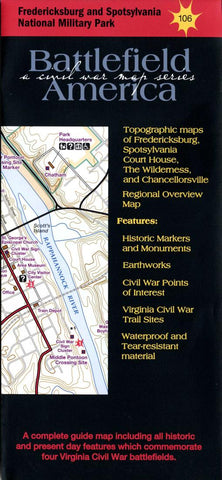 Fredericksburg and Spotsylvania National Military Park #106 by Trailhead Graphics, Inc.
This park memorializes the battles of Fredericksburg, Chancellorsville, the Wilderness, and Spotsylvania Court House. No other area of comparable size witnessed such heavy and continuous fighting. Within a 17 mile radius there were over 100,000 American casualties over the course of the Civil War.
Map Features:
This publication features highly detailed topo maps of all four battlefields. An index map includes other points of interest such as Salem Church and the Stonewall Jackson Shrine. Each topo map features monuments, interpretive hiking trails, earthworks, and other points of interest.
Product Number: 2030595M
Product Code: THG_FREDERICK
ISBN: 9781883271053
Year of Publication: 2007
Folded Size: 9.45 x 4.33 inches
Unfolded Size: 20.87 x 33.07 inches
Map type: Folded Map
Geographical region: Virginia
---
Related Maps