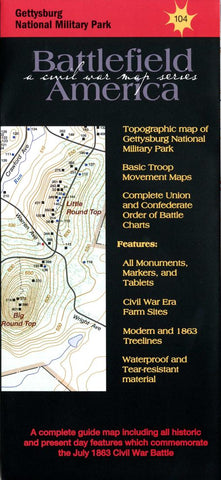 Gettysburg National Military Park #104 by Trailhead Graphics, Inc.
General Robert E. Lee, eager to move the fighting north, advanced into Pennsylvania in June of 1863. After suffering heavy losses over the three day battle, Lee retreated back to Virginia. Another example of an indecisive victory strategy-wise, Gettysburg was a great morale booster for the North. In November, President Lincoln traveled from Washington and issued the Gettysburg Address.
Map Features:
Over 435 monuments and 416 markers and tablets highlight this very detailed park map. Both 1863 and modern tree lines, historic and modern roads, and 10 contour intervals help define the battlefield. Three index maps, simple troop movement maps, and an Organizational Chart are also included.
Product Number: 2030593M
Product Code: THG_GETTYSBUR
ISBN: 9781883271039
Year of Publication: 2012
Folded Size: 9.45 x 4.33 inches
Unfolded Size: 30.71 x 20.87 inches
Map type: Folded Map
Geographical region: Pennsylvania
---
Related Maps