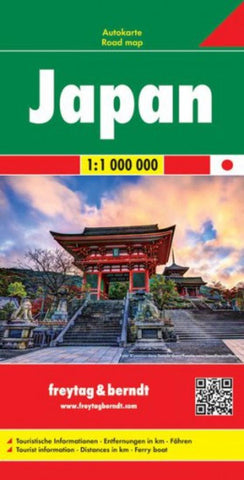 Japan by Freytag-Berndt und Artaria
Get a grasp on exploring the Asian nation of Japan with this full colour Freytag & Berndt single-sided road map. The contours of the land are depicted with colour shading and plenty of spot heights.

The map is detailed, featuring all of the Japanese mainland, as well as the Okinawa Islands. An index of localities can be found on the flipside. Freytag & Berndt maps use an icon and marking system to show tourist information and sites of interest.

These include:

Roadways, including those under construction; railway lines including Shinkansen (bullet train) lines; and ferry routes
Natural features such as waterways, swamps, beaches and caves
Airports, sea ports and piers
Religious shrines, both Buddhist and Shinto
UNESCO World Heritage sites

Distances between points are shown in kilometres. The legend is in several languages including English.
Product Number: 2030315M
Product Code: FB_JPN
ISBN: 9783707913873
Year of Publication: 2012
Folded Size: 10.24 x 5.120 inches
Unfolded Size: 48.03 x 37.8 inches
Map type: Folded Map
Geographical region: Japan
---
Related Maps