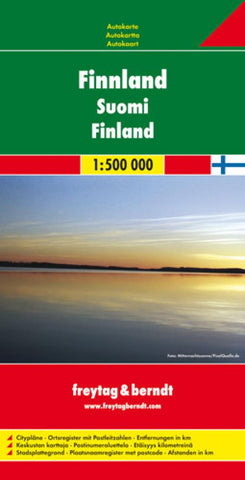 Finland by Freytag-Berndt und Artaria
Explore the Nordic nation of Finland with this Freytag & Berndt double-sided road map. The best way to plan your trip, prepare your itinerary, and to travel independently on this region. As with all Freytag & Berndt maps, the cartography is clear and detailed with the topography shown with relief shading with plenty of spot heights.

One side of the map shows the south of Finland while the flipside features the north.

Icons are used to display a variety of things of interest to the tourist. This includes various roadways, railways, airports, national parks, hotels, and even golf courses. Distances between points are shown in kilometres. The legend is in Finnish, German, English, French, Italian, Dutch, Polish, Czech and Hungarian.

This map also contains a small booklet, featuring an index listing localities, along with their postcodes. Some city plans are also included.
Product Number: 2030306M
Product Code: FB_FIN
ISBN: 9783707905793
Year of Publication: 2013
Folded Size: 10.24 x 5.12 inches
Unfolded Size: 36.61 x 48.03 inches
Map type: Folded Map
Geographical region: Finland
---
Related Maps