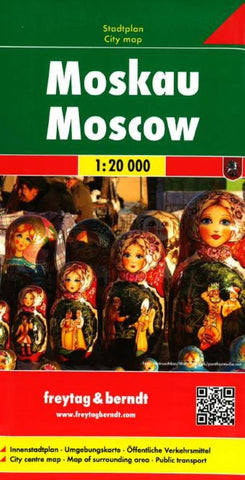 Moscow, Russia by Freytag-Berndt und Artaria
Explore Moscow with this Freytag & Berndt street map. The best way to plan your trip, prepare your itinerary, and to travel independently in the Russian capital.

Main street names are written in both Latin and Cyrillic alphabet and the main landmarks are named in Russian and English. An enlargement of the city centre is included, as well as another enlargement of the Kremlin and its immediate environs.

The legend is in several languages including English. Most names on map are in Romanized script only.
Features subway map (Romanized and Cyrillic names).
Product Number: 2028898M
Product Code: FB_MOSCOW
ISBN: 9783707906158
Year of Publication: 2012
Folded Size: 10.24 x 5.12 inches
Unfolded Size: 38.19 x 34.65 inches
Map type: Folded Map
Geographical region: Russia
---
Related Maps