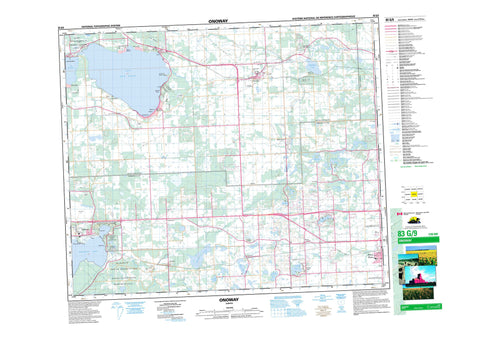 083G09 Onoway Canada topo map, 1:50,000 scale
083G09 Onoway NRCAN topographic map.
Includes UTM and GPS geographic coordinates (latitude and longitude). This 50k scale map is suitable for hiking, camping, and exploring, or you could frame it as a wall map.
Printed on-demand using high resolution, on heavy weight and acid free paper, or as an upgrade on a variety of synthetic materials.
Topos available on paper, Waterproof, Poly, or Tyvek. Usually shipping rolled, unless combined with other folded maps in one order.
Product Number: NRCAN-083G09
Parent Topo: TOPO-083G
Map ID also known as: 083G09, 83G9, 83G09
Unfolded Size: Approximately 26" high by 36" wide
Weight (paper map): ca. 55 grams
Map Type: POD NRCAN Topographic Map
Map Scale: 1:50,000
Geographical region: Alberta, Canada
Neighboring Maps:
All neighboring Canadian topo maps are available for sale online at 1:50,000 scale.
Purchase the smaller scale map covering this area: Topo-083G
Spatial coverage:
Topo map sheet 083G09 Onoway covers the following places:
- Lac Ste. Anne Settlement - Stoney Plain 135A - Wabamun 133A - Wabamun 133B - Farming Island - Bell Lake - Byers Lake - Cameron Lakes - Chickakoo Lake - Cottage Lake - Eden Lake - Gerharts Lake - Glory Lake - Horse Lake - Hubbles Lake - Jack Fish Lake - Johnnys Lake - Kettle Lake - Lac Ste. Anne - Matchayaw Lake - Mere Lake - Mink Lake - Muskeg Lake - Salter's Lake - Sauer Lake - Soldan Lake - Spring Lake - Star Lake - Wabamun Lake - County of Lac Ste. Anne No. 28 - County of Parkland No. 31 - Lac Ste. Anne County - Municipal District of Sturgeon No. 90 - Parkland County - Sturgeon County - Wabamun Lake Provincial Park - Wabamun Provincial Park - Kilini Creek - Mink Creek - Sturgeon River - Toad Creek - Wabamun Creek - Stony Plain - Alexis - Beach Corner - Bilby - Carvel - Carvel Corner - Duffield - Gunn - Heatherdown - Lac Ste. Anne - Manly - Manly Corner - Noyes Crossing - Smithfield - Alberta Beach - Castle Island - Edmonton Beach - Kapasiwin - Lakeview - Onoway - Point Alison - Ross Haven - Spring Lake - Sunset Point - Val Quentin - Wabamun - West Cove - Yellowstone
---
Related Maps