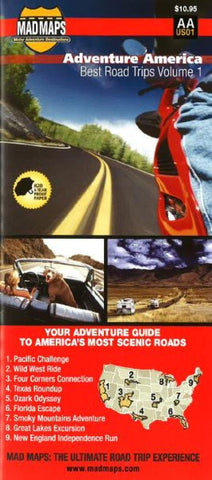 Adventure America, Best Road Trips, Volume 1 by MAD Maps
Adventure America: Scenic Drives USA Road Map
Features the 9 best scenic USA road trips. Our scouts have found what in their opinions are the 9 best scenic road trips in the continental US. And the winners are: Pacific Challenge (California road trip); Wild West Ride (South Dakota and Wyoming road trip); Four Corners Connection (Utah, Arizona, New Mexico and Colorado road trip); Texas Roundup; Ozark Odyssey (Missouri, Arkansas and Oklahoma road trip); Florida Escape; Smoky Mountains (Georgia, North Carolina, Virginia and Tennessee map); Great Lakes Excursion (Upper Michigan map); and New England Independence Run (Maine, New Hampshire, Vermont, Massachusetts, Connecticut and Rhode Island map).
For RV touring or cross-country road trips, and to travel these 9 winning routes, this US road map is unbeatable. Youll travel the 2-4 lane, paved, scenic highways and scenic byways of the nation, using this tear- and water-resistant map. Its all here as you explore lush forests and snow-capped peaks as you trace the cliffs of the Pacific Coast. Experience the canyons, rock formations and deserted highways of the Southwest or discover the granite spires and rugged terrain of the Black Hills and Wyoming. Head east to the legendary Smoky Mountains and Cumberland Gap or venture up to the Northeast for a journey through Americas birthplace. These are more than just road trips, they are 1 to 2 week-long journeys that help define the American experience. Theyre a way of recapturing our inherent love of the open road and of rediscovering a nation. And with every winding turn, youll gain a deeper understanding that in the end, its not the destination that counts - its the journey.
Product Number: 2034904M
Product Code: MADM_USA_1
ISBN: 9780967473796
Year of Publication: 2005
Folded Size: 9.06 x 3.94 inches
Unfolded Size: 20.67 x 31.5 inches
Map type: Folded Map
Geographical region: United States
---
Related Maps